Main content starts here, tab to start navigating
Our Vision
Our vision is to provide a healthy meal solution with a mindful approach that allows people the opportunity to experience a "from scratch" meal using ingredients that are preservative free. Our commitment to being a Green Business ensures we will source local and fresh ingredients as much as possible. We are also committed to reducing our impact on the planet by composting, recycling and continuing to educate the community.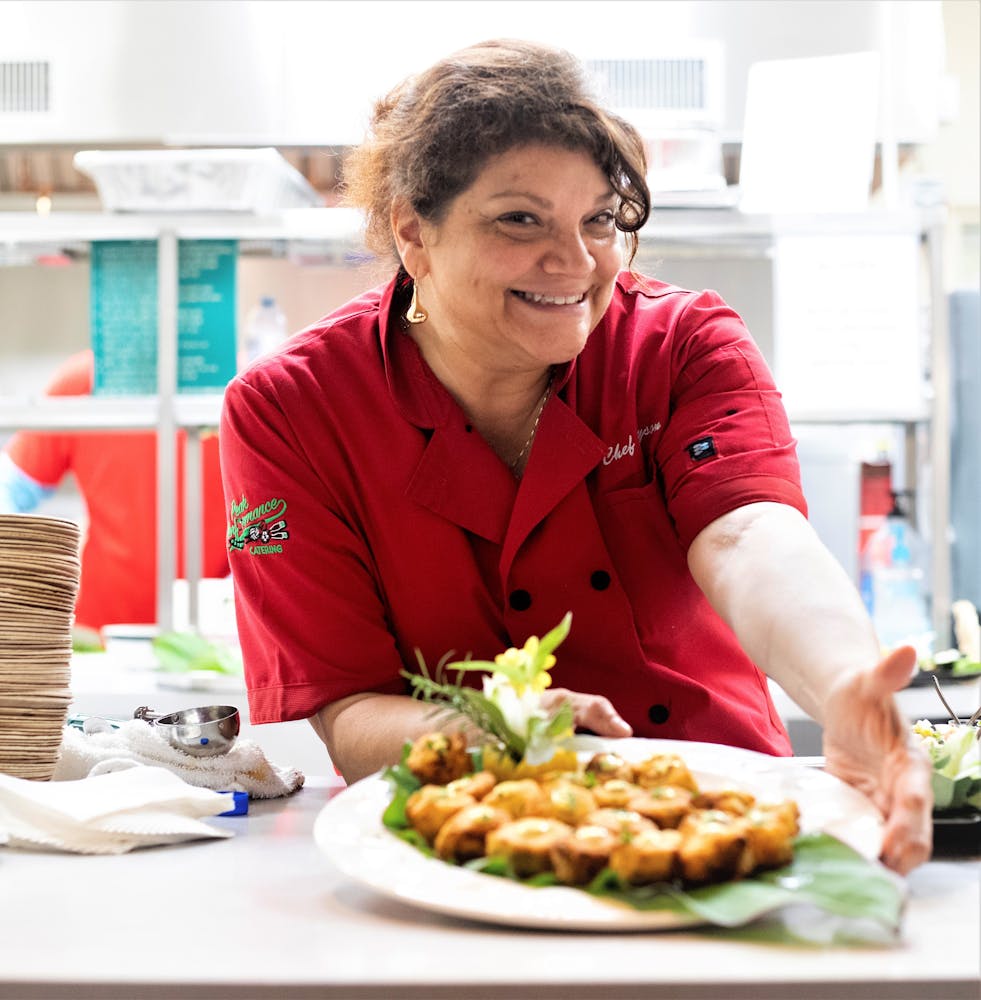 Chef/Owner Alyson Zildjian has been working and creating in the food industry for over 35 years. She is a Johnson and Wales University graduate and studied classical-style cooking at the Hotel Institute for Management in Montreux, Switzerland.
Zildjian Catering is a full-service catering and event company specializing in fresh Mediterranean-style food. Chef Alyson takes a mindful approach in all aspects of the business working with clients' specific needs to fulfill their vision.
Zildjian Catering clients range from Fortune 500 companies and rock legend Aerosmith to corporate and private clients celebrating their Achievements, B'nai Mitzvahs, Weddings, Birthdays, Anniversaries, Gala's and Fundraising Events.
Chef Alyson has done extensive research on developing recipes and menus for people with special dietary restrictions, especially those needing gluten-free options. Her passion for local food keeps her menu's exciting and interesting using local organic ingredients in season as much as possible.
Zildjian Catering is a Certified Green Business with Sarasota County and a huge advocate for environmentally friendly events. She sits on the Board of Slow Food Greater Sarasota and the Edible School Garden Committee, is a member of Transitions Sarasota, the American Culinary Federation, BNI, Visit Sarasota Partner, and a Goodwill Ambassador. Most Recently she was invited to NYC to the World Economic Forum as a thought leader looking at our future of Nutrition.
You can find Chef Alyson in Sarasota appearing on Channel 7 ABC news as a guest Chef on the News at Noon and The Suncoast View throughout the year.
Zildjian Catering and Consulting offers Fresh Food To Go; where you can pre-order weekly meals to pick up and help you take the stress out of what to cook each week. In 2017 their Peak Performance Catering division was launched to cater to athletes that train and compete in the area.
Chef Alyson's passion is to be part of a society that supports environmental sustainability and social justice by having a food system that is good, clean, and fair. One of her missions is to help people learn more about the food they eat and the benefits of eating locally and seasonally.
Zildjian Catering sets itself apart by providing impeccable service and food that is not only fresh, healthy, and delicious but, is always presented beautifully. Everything they do creates unique touches that will leave your guests talking about it for years!