Pumpkin Ravioli with A Savory Goat Cheese Sauce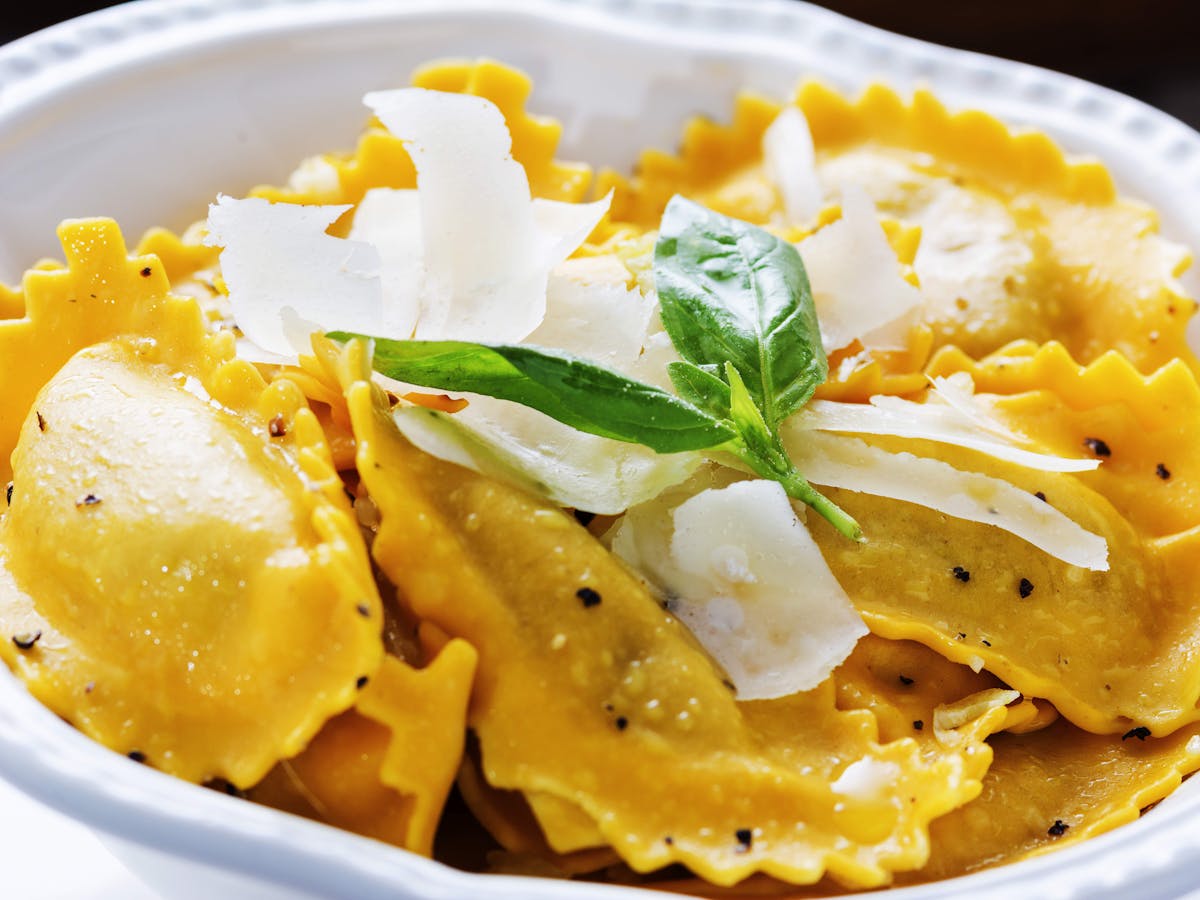 Pumpkin Ravioli with Savory Goat Cheese Sauce makes a delicious meal for your family. This meal is ideal for the holiday season for a great dish for a dinner party with your friends and family.
Procedure
On medium high heat melt butter in saucepan, add the shallots and sautée for 2 minutes and then add the amaretto liquor and fresh thyme. Reduce the Amaretto Liquor ½ way and add the goat milk, heavy cream and goat cheese. Stir until all the goat cheese is melted and incorporated and the sauce starts to thicken, turn heat to low and simmer about 5 minutes and finish with Salt, Pepper to taste.
Pour over your ravioli and garnish with the toasted Walnuts
Ravioli Directions:
Bring a Pot of water to boil. Drop Ravioli in Water and turn heat down to medium high. Cook Ravioli about 5 minutes or until they are floating on top. Drain Ravioli in Strainer and toss a little olive oil on so they don't stick. Put them on your plate; pour your sauce on top with Walnuts and Serve.
Garnish with Thyme leaves or Fried Sage.
This makes a great appetizer for Thanksgiving Dinner.
Serves 4
Ingredients:
1 Pound Pumpkin Ravioli
½ Cup Fresh Goat Cheese
2 Tbls Butter
1 Whole Shallot, Peeled and Small Dice
2 Tbls Amaretto Liquor
1 Cup Goat Milk
1/3 Cup Heavy Cream
¼ Cup Toasted Walnuts
1 Tsp Salt
1 Tsp White Pepper
Pinch Fresh Thyme – Chopped Fine