Florida Gulf Shrimp and Local Fresh Corn Cakes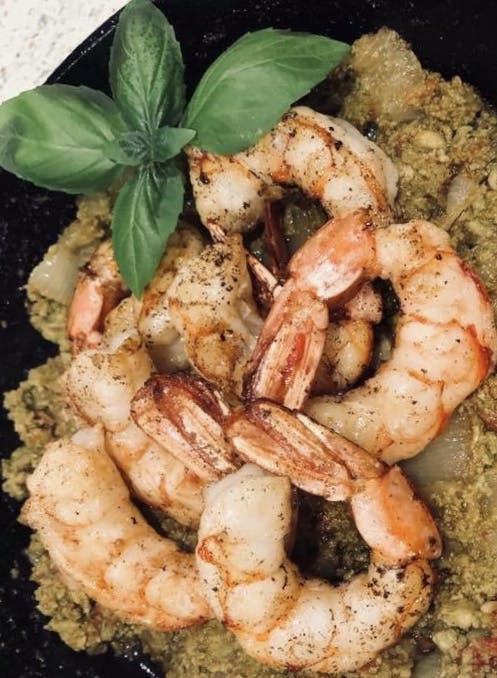 Procedure
1. Take half of the fresh corn kernels and put in food processor until smooth.
2. In a medium bowl combine the pureed corn, buttermilk, eggs, butter and the remaining whole corn kernels.
3. In separate bowl combine flour, corn meal, baking soda, salt and sugar.
4. Stir in the corn mixture into your dry ingredients, incorporating all ingredients, and then add the cilantro, chopped green onion, jalapeño, and shrimp.
5. In medium skillet heat vegetable oil over medium high heat for about 5 minutes.
6. Drop spoonfuls of the corn/shrimp mixture into hot oil.
7. Fry the cakes for about 2 minutes a side or until golden brown.
8. Remove and cool on wire rack.
Serving Suggestions:
Make a quick salsa to top them with, or just squeeze fresh lemon and serve.
Can also be served over a garden salad with a buttermilk dressing.
Serves 8
Ingredients:
1 Cup Fresh Corn Kernels
½ Cup Buttermilk
2 Eggs Beaten
1 Tbls Melted Butter
¼ Cup Corn Meal
¼ Tsp Baking Soda
1 Tsp Kosher Salt
1 Tsp Sugar
1 Tsp Fresh Cilantro
3 Stalks Green Onion (scallions), Chopped
½ Red Jalapeño or Chili Pepper of Your Choice
½ Pound Cooked Shrimp – Deveined and Chopped
¼ Cup Oil for Frying