Fiery Shrimp with Florida Mango Over a Bed of Arugula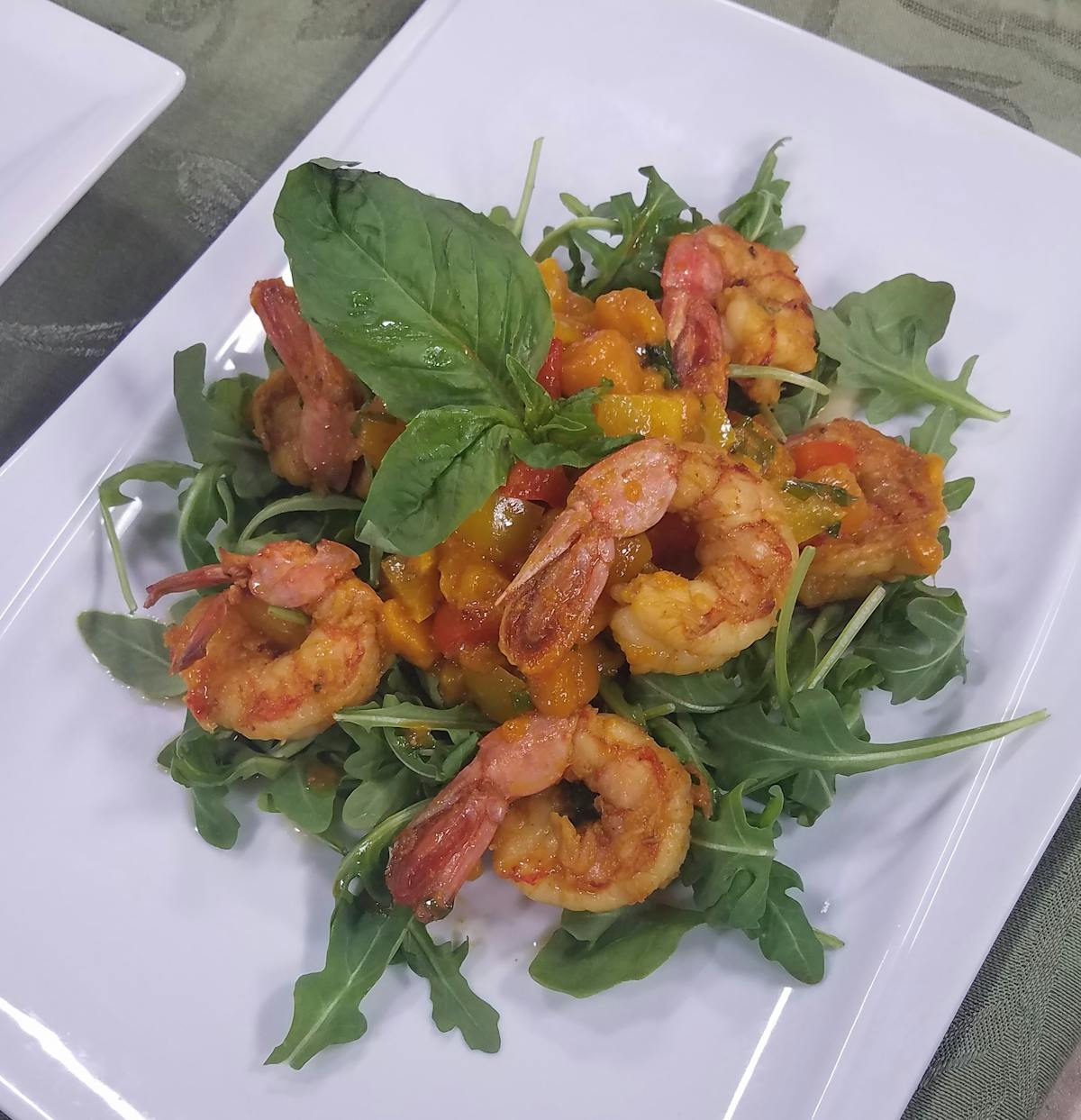 Procedure
1. Toss cleaned shrimp with salt, cayenne, garlic, turmeric, all spice, in a medium bowl. Cover; refrigerate for about 30 minutes.
2. Heat oil in a large pan or WOK, over medium-high heat; place the shrimp in and continue to sautée (or stir fry) until they turn salmon-pink, about 2 minutes.
3. Add mango, scallion greens, and red pepper, and basil and cook, stirring, until the shrimp is just cooked and starts to barely curl, another 2 minutes. Turn off heat.
4. Place Arugula Greens on the plate. Then take your Shrimp and Mango Mixture and place on top. Garnish with Basil leaf. Serve.
You may also serve with Jasmine Rice and use instead of the Arugula
**This can be a main dish with Rice or a nice summer salad.
Serves - 4
Ingredients:
1 Pound Raw Shrimp, (21-25 per Pound), Peeled and Deveined, Tails Left On
1/2 Tsp Salt
1/4-1/2 Tsp Cayenne Pepper (optional) Substitute Fresh Cracked Pepper
1/4 Tsp Ground Turmeric
Pinch All Spice
1 Clove Garlic – Minced
2 Tbls Extra-Virgin Olive Oil or Peanut Oil if You Have It
1 Large Ripe, Firm Mango, Peeled and Cut Into 1/2-Inch Cubes
1 Bunch Scallions, Green Tops Only, Thinly Sliced
1 Whole Red Pepper – Medium Dice
1/4 Cup Fresh Basil Leaves, Finely Chopped
¼ Pound Fresh Baby Arugula