Creamy Chicken Soup with Local Pears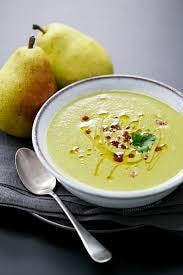 Procedure
Making a Roux for thickening your soup.
4 tablespoons butter
6 tablespoons flour
Heat butter over medium heat and then add your flour whisking vigorously. When mixture starts to bubble, reduce heat and let cook, whisking occasionally until it is toasty brown and nutty aroma about 3-5 minutes.
Roux can be used immediately to thicken liquid that is at or below room temp. To thicken soup it is best to allow roux to cool to room temp or refrigerate before use. It is easier to make ahead. It will keep in refrigerator tightly wrapped for a month.
To Make Soup
Melt 3 Tbls of butter in heavy large sauce pan over medium high heat. Add onion and Sautée for about 5 minutes until the onions become translucent. Add carrot, celery and continue to sautée until vegetables are tender about 5-7 minutes. Add pears and sautée for another 2 minutes, Add in the Chicken Broth, apple jack liquor, marjoram, salt and pepper. Turn heat up to medium high til just about boils and add 2 tablespoons of your roux at a time and cook until soup thickens. Stir in Diced Cooked Chicken. Taste and adjust seasoning. Add cider vinegar if soup tastes too sweet.
Garnish with Pepita's (toasted pumpkin seeds)
Serves 4-6
Ingredients:
3 Tbls Butter (Can use the low fat kind as well)
2 Cups Onion – Chopped
1 Cup Carrots – Chopped Fine
1 Cup Celery – Chopped Fine
3 Medium Local Pears – Cored and Sliced (About 4 Cups)
5 Cups Low Sodium Chicken Broth (Or Homemade Stock)
2 Tbls Apple Jack or Calvados Liquor or Pear Liquor
½ Tsp Dried Marjoram (Crumbled) (May Sub- Pinch Sage or Thyme)
½ Tsp Course Salt
Pinch Ground White Pepper
2 Cups Diced Cooked Chicken
1 Tsp Cider Vinegar (Optional)